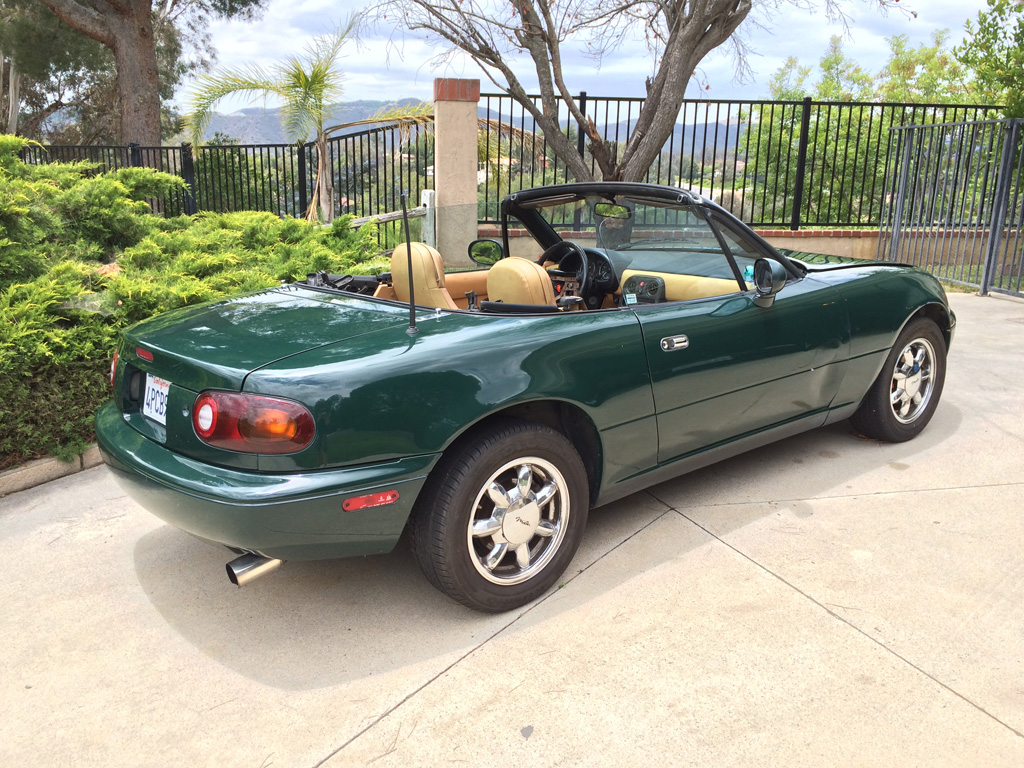 1991 Mazda Miata, $1000
-Special edition; #676 out of 4000
-British Racing Green w/ tan perforated Leather / chrome wheels
-LSD rear, manual 5 speed trans
-KYB AGX adjustable shocks
-Track dog racing heat shield, header, custom exhaust
-Optional chrome 'daisies', tires look fantastic (comes with 4 spare centercaps)
-Haartz stay-fast canvas roof with glass window (needs to be sewn back in)
-CA sticker for APR 2016
-1.6L motor is very clean inside (see pics)
-204554 miles, but very well maintained (HUGE pile of receipts inc. oil changes)
-Timing belt done 20k ago (180609mi), according to records
-NOT A SALVAGE TITLE!
Front end damage:
-I pulled the driver side front fender and the bumper off, to roughly pull the crash damage out to make the car drivable.
-the AC condenser was removed, and the radiator was temporarily installed.
-the car will need a new front rad support/ bumper mount as pictured below. These go for about $150 at the breakers yards; I've spoken to Craigslisters who will sell the front clip for $100. The part is the white one in the pictures. It is NOT included.
-the car had a non-airbag steering wheel in it when I got it. I am keeping it and supplying a pretty ratty stock wheel with no airbag in it's place.
The car is drivable as-is, but you should use this to get it to where ever you are going to repair it and not daily drive it this way. My repair was intended to be temporary!
Extras:
-The carpet is ripped by the driver's foot. I have another complete carpet kit you can have
-I have unbent headlight assemblies that are included
-all the bits and chunks that were removed when making the car drivable are included. You are getting the complete car!
If you are going to use this to make a track car/ 24hrs of Lemons/ ChumpCar contender, I may be able to work on the price by taking parts that I can sell off of it.
Please contact me with any questions, or to set up a time to come see/ test drive it. I am available during the day. I prefer to communicate by email.
Come make a reasonable offer and drive it home!
This slideshow requires JavaScript.