Our family car is a Mazda 5.  It's a cool little mini-minivan that seats 6 and has a manual transmission.  It has about 90k miles on it now, and it's needed basic maintenance, and has returned us with solid, reliable transport.
There are a few Achilles heels to this car, but I learned about them before purchasing – and it didn't deter me from buying:
Rear shocks would go bad
Sway bar end links would rattle
Tire alignment is critical
Weak rear engine mount
I've addressed the issues as the parts failed, and I've upgraded along the way; Koni Shocks, Moog links, etc.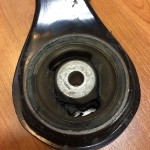 Our rear mount had broken and I found the Roca brand mounts were suggested on the various Mazda 3 message boards (Mazda 5 people don't seem to exist?).   I bought a kit with all 3 engine mounts and replaced them.  They worked fine.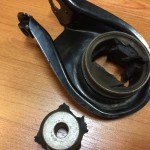 Less than a 10 months after installing them, the rear mount failed AGAIN.  Roca was quick to warranty these, but really, I'm not going to replace engine mounts every year from now on…
I did more research and found the CPE rear engine mount.  Not only does this thing look like the Starship Enterprise, it functions fantastically. There is little discernible movement from the engine, even with an aggressive (mini-van aggressive) clutch engagement.  Wheel spin, not wheel hop is the outcome; and that's a good thing.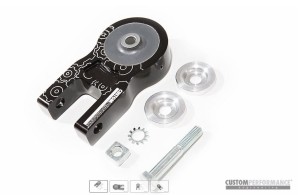 We went with the EPDM 60A durometer – I wanted as little dash vibration as possible.  At cold idle, with the AC on, you'll get just a little.  It's fine.
Maybe I'll take pics of our Mazda5 and put them on the site, but it's just… a car. 😉