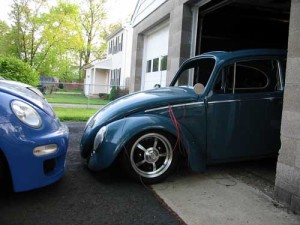 Unfortunately, like most project cars, it never came to see the original plan.  I ended up putting my 1915cc motor in it with 44 IDF Webbers.  I had a turbo manifold on it while it was in the build stage, but I rushed to get it running before moving cross-country and I fabbed up a downturn with a muffler.  It was ugly.
I narrowed the beam 8″ and bought some Sprint Star repro's – these fit the theme perfectly because they were aluminum repops of wheels that were originally steel.  A new take on the old model – like the car.  I ended up putting some Smart Car 175/55/15's on the front, 205/60/15's on the rear.  I loved the final ride height.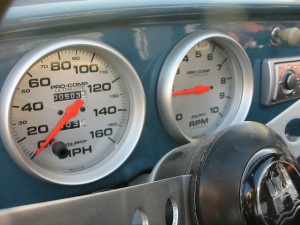 The dash came out great, with the silver Autometer gauges and stereo.  There was a ton of silver powdercoating that made it onto the car (like the gas tank and all the access panels). The engine lid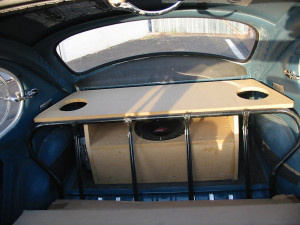 was removable with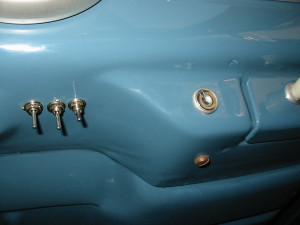 quick-release hinge pins and wiring.  I added a second dome light on the passenger side, and built a sub-box/ speaker tray/ amp rack that fit nicely behind the rear seat.
I did eventually get the car on the road while I lived in AZ, but my heart was not in it at the end.  I really liked the look of the car, but to see my original vision, there was a ton more money to spend. My son was just born and it was time to lean out New Dad's fleet.
I ended up selling it to a guy from Colorado who ended up finishing up the upholstery and put a real exhaust on it.  He detailed out all the stuff I never finished, which was awesome.