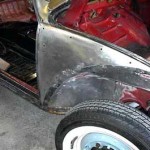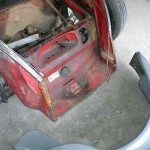 There was a slight crease in the passenger side front quarter from a previous fender-bender and the front apron was pretty wavy so both of those were attended to.
I came across a complete early sliding ragtop so I decided to graft that in.  The 1965 export came with the smaller metal 'crank-style' sunroof, but the Europeans got a sliding rag on the base model in 65… so this combo isn't completely inaccurate.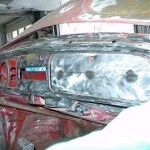 The plan for the car was to be a modernized version of the classic beetle.  The hood and trunk seal pinchwelt would be shaved to use the later Mexican seals, the wiper holes were enlarged to house a late 2-spped, splined shaft wiper motor, the dash would have more modern gauges, GM-style fuses, etc.  I'd be running Porsche headlights with the city lights swapped out for turnsignals, and I hoped to have all the chromework powdercoated a bright satin silver for a modern look.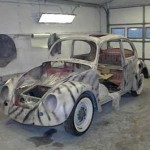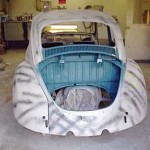 Because the car was slated to be my daily driver, I had to plan well ahead for future upgrades.  They included an electric windshield washer, heated windshield, Subaru engine, air conditioning, a nice stereo, power windows, etc.   Most of these items would need to be hidden so the car didn't lose it's 'oldness'.
The color selected was VW's dove blue with just a little bit of BMW's Laguna Seca blue mixed in.  It honestly looked like Dove blue unless you parked it near an old bus.  Only then could you tell that it was much brighter.