BEFORE REASSEMBLING, WASH ALL PARTS WITH KEROSENE
1.  CRANKCASE REASSEMBLY: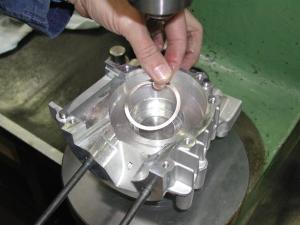 a. CHECK STATUS OF CRANKCASE BEARINGS.
VISUAL CHECK.  REPLACE AFTER 5 HRS MAX.
b.  PLACE CRANKSHAFT HALVES UNDER PRESS (OR HEAT CRANKCASE HALF AT 70°C).
c.  INSERT BEARING SHIMS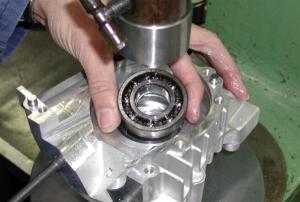 d.  INSERT BEARINGS – BALLS TO BE ON UPPER SIDE AND VISIBLE DURING THE ASSEMBLY . USE TOOL AS PER DRAWING S725/1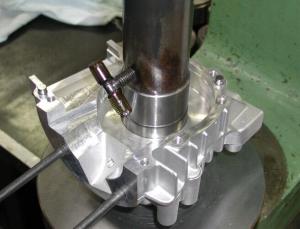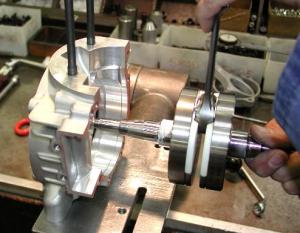 e.  INSERT CRANKSHAFT AFTER OILING THE CRANKSHAFT SEAT IN THE CRANKCASE – CRANKSHAFT MUST BE IN SAME POSITION AS IN ORIGINAL INSTALLATION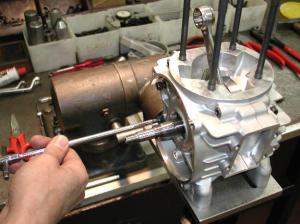 f. ASSEMBLE CRANKCASE (see Fig.5).
n°4 SCREWS M6X40
n°3 SCREWS M6X50
CROSS PATTERN ASSEMBLY
TORQUE AT 10 Nm MAX.
-ATTENTION:  AS FIRST STEP ASSEMBLE CRANKCASE WITH 4 SCREWS ONLY AND CHECK CRANKSHAFT AXIAL PLAY .
TO BE 0.20 ±0.05mm, IF LOWER OR HIGHER DISASSEMBLE THE CRANKCASE, EXTRACT THE BEARINGS AND USE DIFFERENT STEEL SHIMS (0.10/0.15/0.20) TO RECOVER PLAY. SHIMS MUST BE EQUALLY POSITIONED.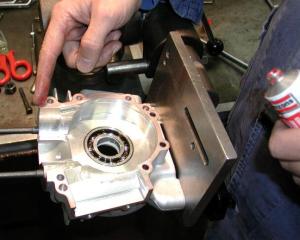 ONCE THE CORRECT PLAY IS ACHIEVED , DISASSEMBLE THE CRANKCASE AND APPLY FLUID GASKET (Motorseal or equivalent) ON CRANKCASE HALVES AFTER CAREFULLY CLEANING THE SURFACES WITH DILUENT. BE CAREFUL TO CLEAN EVENTUAL EXCESS OF PRODUCT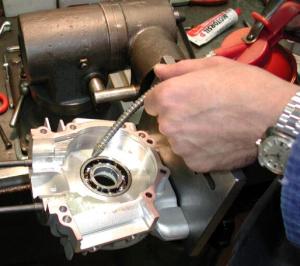 OIL CRANKSHAFT SEAT BEFORE INSERTION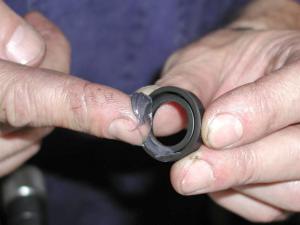 2.  APPLY SPECIAL LUBRICANT ON OIL SEAL LIPS AND INSERT OIL SEALS (MARK ON SEAL TO BE OUTSIDE)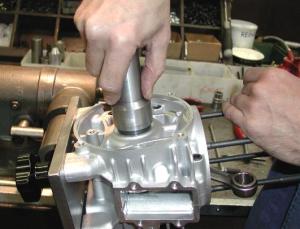 INSTALL THE OIL SEALS BY MEANS OF THE TOOL – DRAW S725/1.
ATTENTION:  THE OIL SEAL MUST BE REPLACED AFTER MAX. 4 HRS AND ALWAYS WHEN DISASSEMBLED.
3.  INSTALL PISTON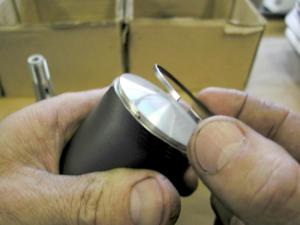 a.  CHECK STATUS OF ROLLER CAGE.
CAGE MUST BE REPLACED EVERY 4 HRS.
b. CHECK STATUS OF PISTON PIN.
PISTON PIN MUST BE REPLACED WHEN REPLACING PISTON.
SEE ATTACHMENT ON MATCHING SELECTIONS.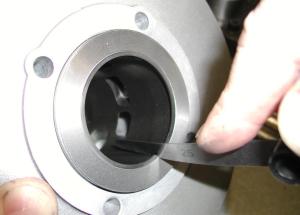 c. INSTALL RING ON THE PISTON
ATTENTION:  CHECK FIRST THE PISTON RING END GAP USING A THICKNESS GAUGE.
MEASURE THE END GAP OF THE PISTON RING WHEN INSERTED IN THE CYLINDER GAP SHOULD BE 0.25 ÷ 0.30mm (see Fig.12) .
REPLACE THE PISTON RING IF THE END GAP EXCEEDS 0.4mm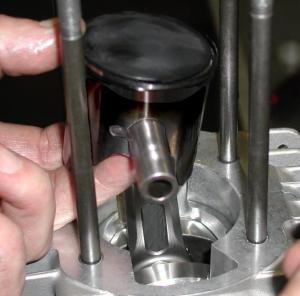 d. INSTALL PISTON
ATTENTION:  PLAY BETWEEN PISTON AND LINER MUST BE 0.11 / 0.12mm.  IF PLAY IS HIGHER THAN 0.14mm  REPLACE PISTON.
FOLLOW ATTACHED INSTRUCTIONS FOR CORRECT MATCHING,  PISTONS ARE MEASURED AT 17.5mm FROM THE BOTTOM OF THE PISTON.
ALWAYS REPLACE PISTON COMPLETE WITH RING
e. MATCH PISTON, WRISTPIN, CAGE  FOLLOWING THE PLAYS SHOWN ON THE ATTACHMENT AND INSERT PIN AND CAGE ON PISTON.
MAKE SURE THAT ARROW ON TOP OF PISTON IS TOWARDS EXHAUST.
AS A GENERAL RULE WRISTPIN MUST BE FORCED IN HOLE. IF WRISTPIN IS LOOSE , REPLACE IT WITH A HIGHER DIAMETER PIN.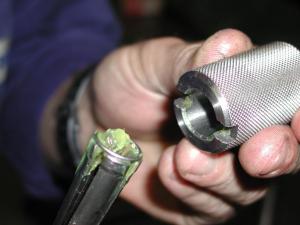 f.  POSITION CIRCLIP ON TOOL. GREASE
TOOL TO KEEP CIRCLIP IN PLACE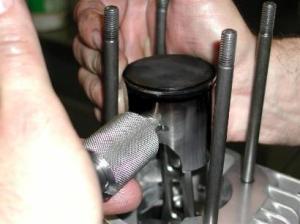 g. INSERT CIRCLIP.  CHECK THAT CIRCLIPS ARE IN SEAT.
4.  INSTALL A NEW CYLINDER GASKET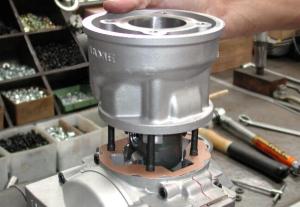 5. INSTALL CYLINDER. HAVE FIRST A VISUAL CHECK.  OIL CYLINDER AND PISTON.
6. CHECK STATUS OF CYLINDER HEAD, CLEAN FROM DEPOSITS. DO NOT SCRATCH COMBUSTION CHAMBER.
7. INSTALL HEAD:
4 O-RINGS Ø7.65mm ON STUDS
1 O-RING Ø60mm HEAD INTERNAL DIAM.
1 O-RING Ø123.5mm HEAD EXTERNAL DIAM.
4 NUTS M8 WITH WASHERS
CROSS PATTERN ASSEMBLY
TORQUE AT 18 Nm
BEFORE ASSEMBLING THE CLUTCH, WASH WITH DILUENT THE SHAFT TAPER, THE CONNECTING HOLE ON THE CLUTCH BODY. THE CLUTCH DRUM AND STARTER RING.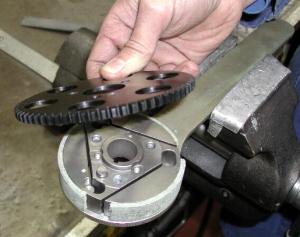 8.  INSTALL THE CLUTCH
a. INSTALL THE STARTER RING ON THE CLUTCH BODY BY MATCHING THE 3 HOLES AND THE DRAGGING PIN (3 SCREWS M6).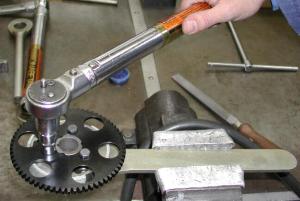 TORQUE AT 10 Nm AND APPLY LOCTITE ON THREADS
ATTENTION:  MAKE SURE TO ALWAYS INSTALL THE Ø 7 DRAGGING PIN , AS OTHERWISE, THE EVENTUAL KICKBACKS COULD BREAK THE SCREWS.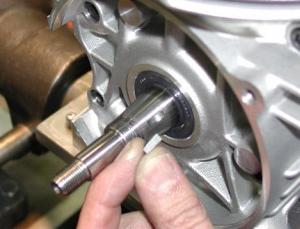 b.  INSERT KEY ON SHAFT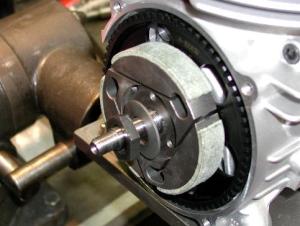 c.  INSTALL THE CLUTCH BODY AND CONE SAFETY WASHER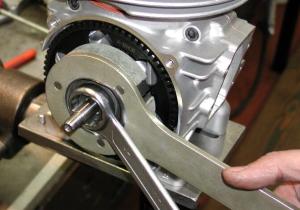 d.  INSTALL THE 16×1 NUT USING THE CLUTCH WRENCH.  TORQUE AT 40-50 Nm
ATTENTION:  TURN COUNTERCLOCKWISE AS NUT HAS LEFT THREAD.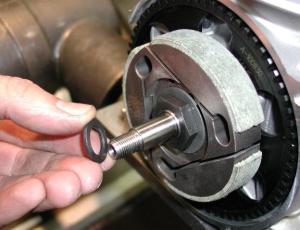 e.  INSTALL THE INNER WASHER
ATTENTION:
INSTALL WASHER WITH BEVEL TOWARDS INTERNAL PART OF ENGINE.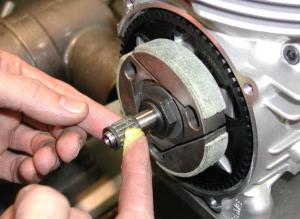 CLEAN ROLLER CAGE AND GREASE IT BEFORE INSTALLING ON THE CRANKSHAFT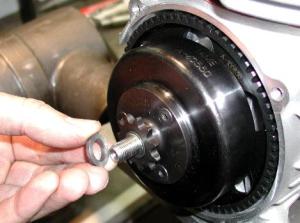 f. INSTALL THE CLUTCH DRUM AND EXTERNAL WASHER.
ATTENTION:  INSTALL WASHER WITH BEVEL TOWARDS SHAFT.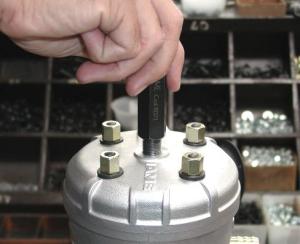 g.  INSTALL THE PISTON FITTING.  ROTATE CRANKSHAFT UP TO TDC SO THAT CRANKSHAFT DOES NOT ROTATE.
INSTALL 1Omm NUT.  TORQUE AT 30 ÷ 40 Nm.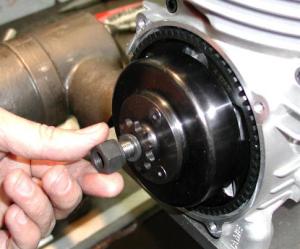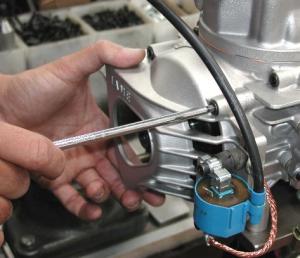 h. INSTALL CLUTCH COVER.
3 SCREWS M6.  TORQUE AT 8-10 Nm
9.  INSTALL THE IGNITION
a.  INSTALL PISTON FITTING ON HEAD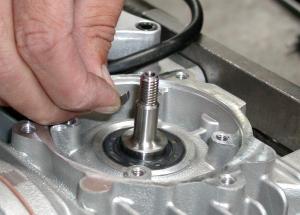 b.  INSERT KEY ON SHAFT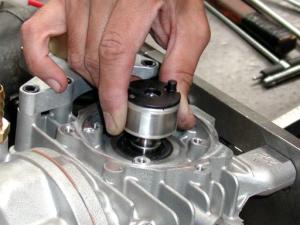 c.  INSTALL IGNITION ROTOR ON SHAFT (WITH TIMING PLATE TOWARDS THE EXTERNAL).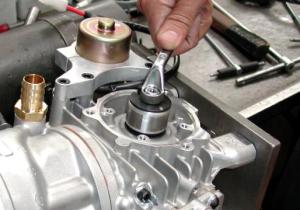 INSTALL THE KNURLED WASHER AND THE SELF LOCKING NUT M8.  TORQUE AT 18-22 Nm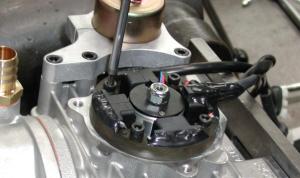 d.  INSTALL STATOR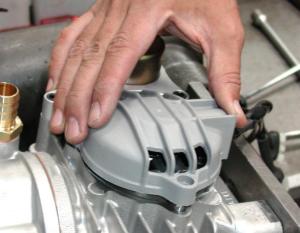 e.  INSTALL IGNITION COVER
10.  INSTALL THE REED PACK
a.  INSTALL THE INNER GASKET
b.  INSTALL REED PACK  (WITH "IAME" ONTHE TOP)
ATTENTION:  FIRST CHECK STATUS OF REED PETALS. REPLACE IF PETALS ARE CRACKED OR, IF LOOKING WITH BACK LIGHT, THE PETALS DO NOT SHUT PERFECTLY, LOOSEN THE 8 SCREWS AND INSERT PETALS WITH BOTTOM CUT TOWARDS RIGHT
c.  INSTALL OUTER GASKET .MAKE SURE THAT HOLE ON GASKET MATCHES WITH CARBURETOR PRESSURE HOLE ON REED PACK.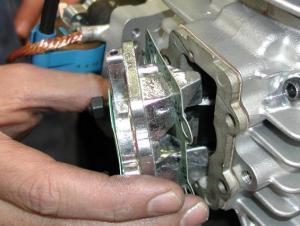 d.  INSTALL CARB. MANIFOLD
4 SCREWS M6X25 WITH WASHERS
11.  INSTALL THE STARTER ASSEMBLY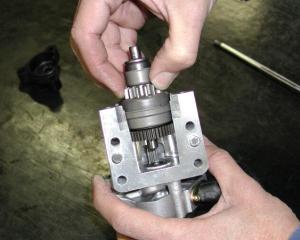 a. INSTALL STARTER COUNTERSHAFT IN THE STARTER SUPPORT.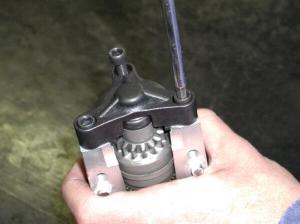 b.  INSTALL THE COUNTERSHAFT SUPPORT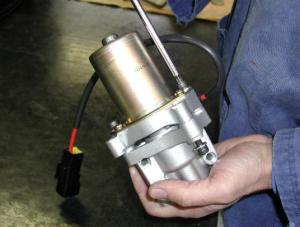 c. INSTALL STARTER. OIL THE "OR" AND PRESS THE STARTER IN SEAT. MAKE SURE THAT GEARS ENGAGE.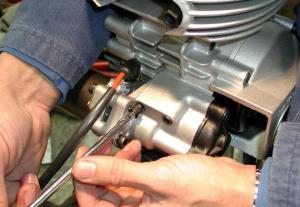 d.  INSTALL THE STARTER ASSEMBLY ON ENGINE.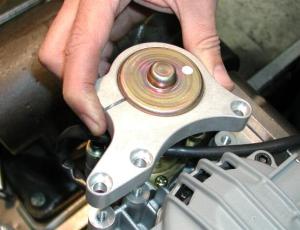 e.  INSTALL THE STARTER SUPPORT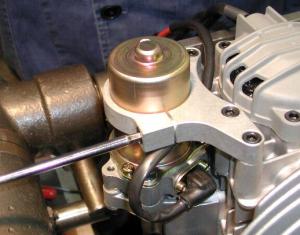 f.  TORQUE THE FIXING SCREW