ATTENTION:
THE DISASSEMBLY/ASSEMBLY OPERATIONS ON THE ENGINE CRANKSHAFT, MUST BE PERFORMED ONLY BY AN AUTHORIZED SERVICE CENTER USING THE SPECIALLY DESIGNED
TOOLS. USE OF UNFITTED TOOLS OR OPERATIONS PERFORMED BY UNSKILLED PERSONNEL MAY DAMAGE THE CRANKSHAFT BEYOND REPAIR.
TOOLS DESCRIPTION & PART NUMBER

CRANKSHAFT ASSEMBLY KIT; 10110-C
CRANKPIN BUSH ( INCLUDED IN 10110-C) 10150
CRANKSHAFT DISASSEMBLY KIT INCLUDES; 10100-C2

– CRANKSHAFT SUPPORT/ DISASSEMBLY TOOL; 10100
– CRANKSHAFT PLATE / DISASSEMBLY TOOL; 10104
– CRANKSHAFT INSERT; 10106
– CRANKPIN PUSHER; 0107
CRANKSHAFT DISASSEMBLY OPERATIONS
1. PLACE THE DISASSEMBLY TOOL UNDER THE PRESS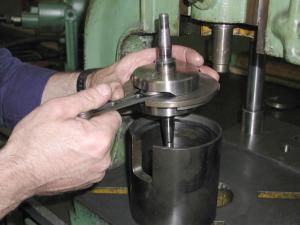 2. PLACE THE CRANKSHAFT IN THE TOOL INSERTING THE CRANKSHAFT PLATE (P.N. 10104) BETWEEN THE CRANKSHAFT HALVES.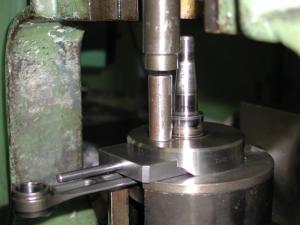 3. INSERT THE CRANKSHAFT INSERT (P.N. 10106) AND USING THE CRANKPIN PUSHER (P.N.10107) PRESS THE CRANKPIN OUT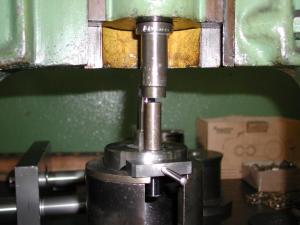 4.  DISASSEMBLE THE COMPLETE CONROD WITH WASHERS.
REPEAT THE OPERATIONS TO EXTRACT THE CRANKPIN FROM THE OTHER HALF CRANKSHAFT.
BEFORE REASSEMBLING, WASH ALL PARTS WITH KEROSENE
a.  CHECK STATUS OF CONROD-TOP AND BOTTOM .
IF OVALIZATION EXCEEDS 0.01mm. REPLACE CONROD
b. CHECK STATUS OF CRANKPIN
VISUAL CHECK – REPLACE IF NECESSARY BUT ALWAYS AFTER MAX. 4 WORKING HRS.
c.  CHECK STATUS OF ROLLER CAGE (BIG END) VISUAL CHECK – REPLACE IF NECESSARY BUT ALWAYS AFTER MAX 4 WORKING HRS.
d.   CHECK STATUS OF CRANKSHAFT HALVES.
REPLACE IF BEARING SEAT IS BELOW 0.030 VS. NEW.
e.   CHECK STATUS OF SILVER WASHERS
VISUAL CHECK – REPLACE IF NECESSARY.
FOLLOW ATTACHED TABLE FOR MAX. MATCHING PLAY FOR CON-ROD, CRANKPIN, CAGE
CRANKSHAFT ASSEMBLY OPERATIONS
1.  PLACE THE CRANKSHAFT ASSEMBLY TOOL (P.N. 10110-C) UNDER THE PRESS, VERTICALLY
2.  PLACE THE CRANKSHAFT HALF INTO THE ASSEMBLY TOOL
3.  OIL CRANKPIN AND CRANKPIN HOLE ON CRANKSHAFT HALF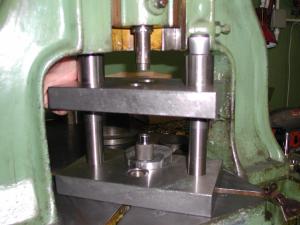 4.  PLACE CRANKPIN WITH CRANKPIN BUSH (P.N. 10150) ON CRANKSHAFT HALF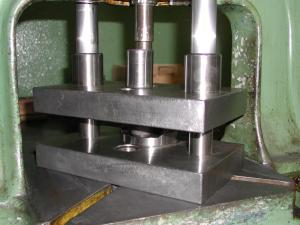 5.  BRING UPPER PLATE OF TOOL IN CONTACT WITH CRANKPIN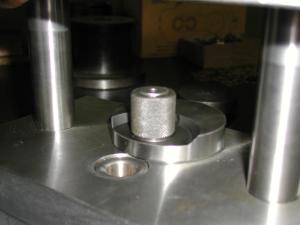 6.  PROGRESSIVELY PRESS UNTIL CRANKPIN IS COMPLETELY DRIVEN IN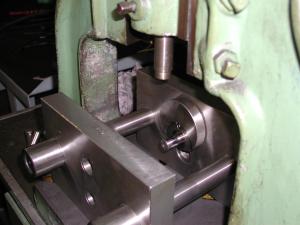 7.  EXTRACT BUSH FROM CRANKPIN AND PUT TOOL IN HORIZONTAL POSITION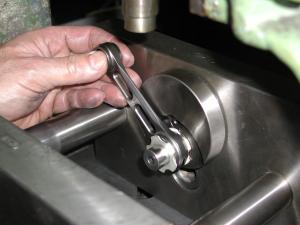 8. INSERT ON CRANKPIN:  (OIL CRANKPIN)
SILVER WASHER
CON-ROD WITH ROLLER CAGE
SILVER WASHER
ATTENTION: ROLLERS ARE FREE IN THE CAGE.
PREVENT ROLLERS FROM FALLING FROM THE CAGE WHEN INSERTING ON CRANKPIN.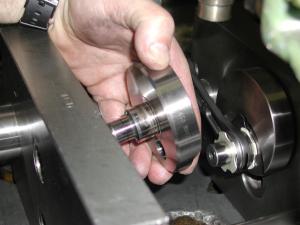 9.  PLACE SECOND CRANKSHAFT HALF IN THE SEAT OF THE COUNTERPLATE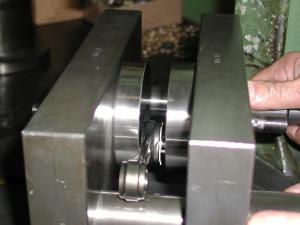 10.  BRING THE TWO PLATES CLOSE UNTIL THE TOOL IS HAND PRESSED
11.  OIL CRANKPIN AND CRANKPIN HOLE ON CRANKSHAFT HALF.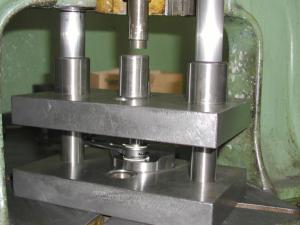 12.  PUT TOOL IN VERTICAL POSITION
13.  PROGRESSIVELY PRESS THE TWO CRANKSHAFT HALVES TOGETHER.
14. OPEN THE TOOL. PUT IT IN HORIZONTAL POSITION AND EXTRACT THE CRANKSHAFT.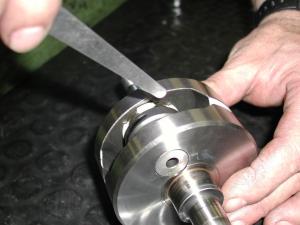 15. CHECK THE AXIAL PLAY OF THE CONROD. IT MUST BE MIN.. 0.3mm / MAX. 0.7mm.
IF PLAY IS HIGHER OR LOWER, REBUILD THE CRANKSHAFT.
AFTER ASSEMBLING THE CRANKSHAFT, IT MUST BE ALIGNED. IF NOT, EXCESSIVE VIBRATION, HARD STARTING OR POOR ACCELERATION WILL RESULT.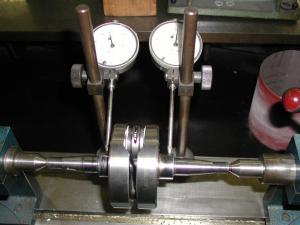 a.  PLACE THE CRANKSHAFT BETWEEN THE CENTERS WITH DIAL INDICATORS READING ON FRONT AND REAR BEARING JOURNALS
b. ROTATE CRANKSHAFT AND LOOK AT DEFLECTION OF GAUGE NEEDLES, THE DEFLECTION MUST BE, AFTER CENTERING,  MAX. 0.01mm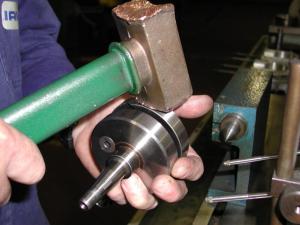 c.  ADJUST ALIGNMENT WITH COPPER HAMMER, IF NECESSARY