1. CHECK THE TIMING:
REMOVE HEAD, CLEAN THE CYLINDER
2.  INSERT SPECIFIC TOOL (P.N.10192) FROM TOP.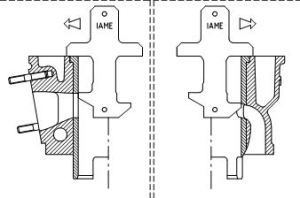 3.  THE GAUGE IS "NO GO " BOTH ON THE EXHAUST AND ON THE INLET SIDE. (see drawing).
1.  CHECK THE COMBUSTION CHAMBER VOLUME:
REMOVE THE HEAD AND CLEAN THE COMBUSTION CHAMBER FROM OIL DEPOSITS WITHOUT SCRATCHING IT.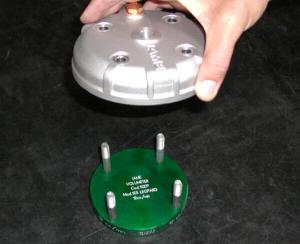 2. PLACE HEAD ON SPECIFIC TOOL (P.N. 10277) INSERT WASHERS AND NUTS M8.  TORQUE NUTS BY HAND
3. PLACE THE GRADUATED BURET FILLED WITH GASOLINE
(60% GASOLINE / 40% OIL)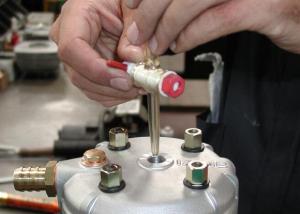 4.  FILL THE COMBUSTION CHAMBER UP TO UPPER EDGE OF SPARK PLUG HOLE
5.  READ GRADUATED BURET.