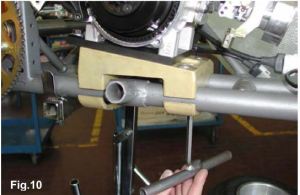 1.  POSITION THE ENGINE ON THE OUTSIDE MAIN RAILS AND FIX THE MOTOR- MOUNT  WITH THE TWO CLAMPS (SEE FIG.10)
SUGGESTION:  NEVER TORQUE COMPLETELY THE CLAMPS UNTIL THE CHAIN IS INSTALLED AND PROPERLY ALIGNED.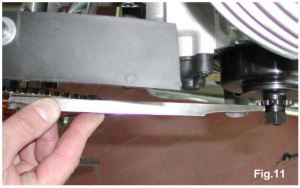 2.  Check the alignment of the engine sprocket and the axle sprocket with a straight edge.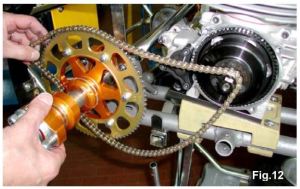 3.  Install the chain.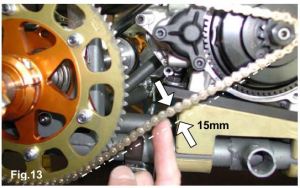 4.  Move the engine on the rails and optimize the chain tension.
5.  Torque the clamp screws.
INSTALL THE CLUTCH COVER WITH H.T. COIL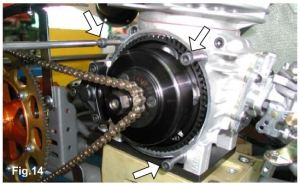 REMOVE THE 3 SCREWS M6 X 30 ON THE CRANKCASE (SEE FIG. 14) AND INSTALL THE CLUTCH COVER WITH H.T. COIL (SEE FIG.15).
TORQUE THE 3 SCREWS  AT 8 – 10 Nm  (70 – 90 in-lb)
ATTENTION:  ALWAYS MAKE SURE THAT THE GROUND CABLE ALWAYS CONNECTS THE COIL WITH THE ENGINE. AN INADEQUATE GROUNDING COULD DAMAGE THE IGNITION BEYOND REPAIR.
THE POSITION OF THE H.T. COIL HAS BEEN CHOSEN TO BE AS FAR AS POSSIBLE FROM THE EXHAUST AS THE EXCESSIVE HEAT COULD DAMAGE THE COIL BEYOND REPAIR.