SPECIFICATIONS
Check/Adjust: Timing, idle speed and CO%
Volkswagen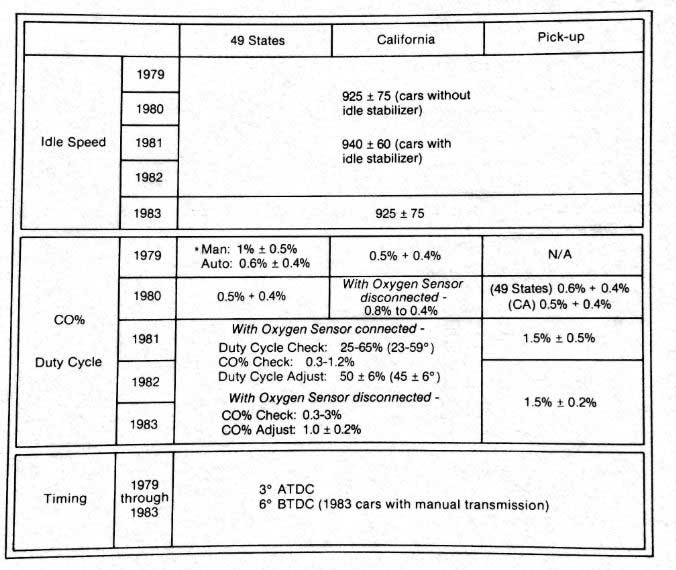 AUDI
HOT START TEST / QUALITY CHECK
Check engine oil level and coolant level.
Run engine until warm (A/C turned off)

Run engine at 2500 RPM for 3 minutes after warm up.

Park vehicle in sunlight, sheltered from wind, with hood closed and engine off.
After 20 to 30 minutes (or time specified by customer), start the engine:

Depress the accelerator pedal slightly.
The engine should start within a maximum of 10 seconds of continuous cranking.
The engine may idle roughly for a few seconds after starting.
If Test Passed: Return car to customer.
As of 1981 models: Before returning car to customer
Install new tamper-proof plug #049 133 777B.
Drive plug in flush with air-sensor housing.
If Test Failed:  Perform Diagnosis Part 2, page 23
SUGGESTED REPAIR TIMES
Diagnosis Part 1:
Basic Checks, Basic Adjustments  = 100 time units
Hot Start/Quality Check =  25 time units
Repairs:
See SRT Manual for Suggested Repair Times or for additional repairs or adjustments.