When the engine is turned off fuel remains pressurized in the injectors and in the injector lines. However, if the injectors leak, the fuel pressure will drop and result in "vapor lock".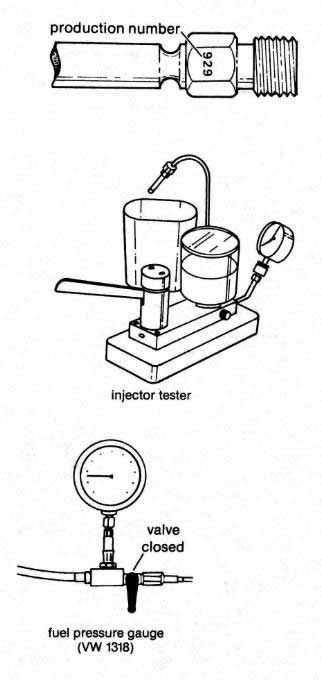 Check Injectors

Fill Injector Tester with Shell Mineral Spirits 135
Caution: mineral spirits are flammable

Connect injector to tester
Open pressure valve and bleed injector by operating pump lever.
Measure opening pressure (check production number on "hex" area.)

Up to 828 = 3.2-3.8 bar
From 829 = 3.5-4.1 bar
At 0.5 bar below measured opening pressure — injector should not drip within 15 seconds.

Replace injectors which fail either test.
Flush out new injectors with tester before installing.

Check System Pressure
Check Control Pressure – Warm Engine

Engine warm
Engine running at idle speed
Valve lever in open position
Specifications = 3.4-3.8 bar
If control pressure is not within specifications See page 32.

Check Residual Pressure

Engine warm
Engine shut off
Valve lever in open position
Specifications – minimum readings:

1976-1980 (Some early 1980 models)
1.8 bar after 10 minutes
1.6 bar after 20 minutes

Specifications – minimum readings:

1980 and later (cars with 3 bar accumuIator #431133441C)
2.6 bar after 10 minutes
2.4 bar after 20 minutes

If residual pressure drops below minimum – See page 33.